National Trust staff at one of the greatest surviving Elizabethan houses, Hardwick Hall in Derbyshire, have begun harvesting what they hope will be a 'bumper' crop of black mulberries using traditional harvesting methods. Garden staff believe this year's fine spring helped create ideal conditions for the 10 trees on the Hall's Mulberry Walk, which are fruiting about a week early and producing larger than usual berries.
Gardener Chelsey Wild said: 'We think the dry, warm start to the season was perfect for the trees, which originally come from south western Asia, giving us a good chance of a bumper crop this year.' When the mulberries are ripe, staff use long sticks to shake the branches causing the ripe berries to drop onto sheets laid out below. During the harvest season, typically from late August, the trees are shaken every few days as the fruits ripen at intervals. Chelsey said: 'It's always an exciting time of year when the mulberries ripen, and harvesting can begin – it's all-hands-on-deck to get the job done.' Once the mulberries are collected, they are taken to the restaurant where the fruit is washed and frozen, ready to be baked into mulberry scones and mulberry Bakewell tart, a twist on the classic Derbyshire dessert.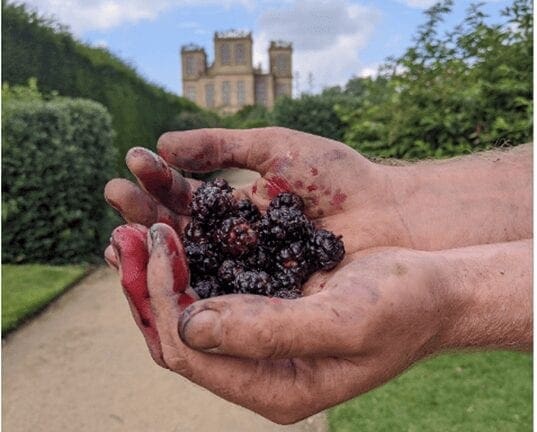 Head Chef Keith Newman said: 'They taste a bit like a blackberry, but the tartness works well in a sweet scone. They also make a delicious treat in mulberry jelly or mulberry cake. We love using seasonal ingredients, grown ourselves, whenever we can.'
According to Morus Londinium, a Conservation Foundation project to explore the country's mulberry tree heritage, the Elizabethan nobility prized the fruit of the black mulberry and would impress their guests by serving exotic mulberries at their table. Later, in the early 17th century, King James I of England asked the nobility to plant 10,000 mulberry trees in an unsuccessful attempt to create an English silk industry – silk-worm larvae feed on the leaves of white mulberry trees – to rival that of France and Italy.
The trees on Hardwick Hall's Mulberry Walk are relatively new in comparison to the 16th-century hall that overlooks them. Most were planted in the 1970s (when 'time capsule' bottles of coins were put beneath each tree) and from 1980-85. One larger tree is known to have been in the garden since at least the 1940s. Ian Hunt, Gardens and Outdoors Manager said: 'In 1948, a team of foresters worked in the gardens for four months, grubbing out half the trees in the orchard and mulberry walk, leaving a mulberry, weeping holly, yew and lime. 'We don't know the age or reason for the existence of this original, much older mulberry tree, but its larger girth gives it away.'
Grow your own mulberries
Since black mulberries are rarely seen for sale, the best way to taste these fruits is to grow your own. Be patient though – they are quite an investment for the future as it may be up to 10 years before they bear fruit. You can take your own hardwood cuttings of mulberries from a neighbour's tree in autumn or buy a young tree to plant in early spring. They will grow in most soils, provided they aren't very dry and sandy or don't get water-logged. An open and sunny spot, sheltered from too much wind is best for mulberries but if space is at a premium you can grow them against a south or west-facing wall.
Stake your tree on planting to ensure the roots don't rock in the wind and keep them well watered and mulched for the first few summers. When fruits do appear, don't be in a rush to harvest them. The red berries are incredibly sharp and unpalatable at first, becoming sweet and delicious as they turn black. At this point, their skin is so thin that many fruits burst as you harvest them so be prepared to have your hands and clothes stained purple!
Visit Hardwick Hall
Hardwick gardens are beautifully presented in a series of courtyards, where you can move from one garden 'room' to the next to explore the herb garden, orchards and colourful borders. The Estate also has 900 acres of parkland, which is home to a variety of wildlife, circular walks and trails. Hardwick Hall, Doe Lea, Chesterfield, S44 5QJ www.nationaltrust.org.uk/hardwick